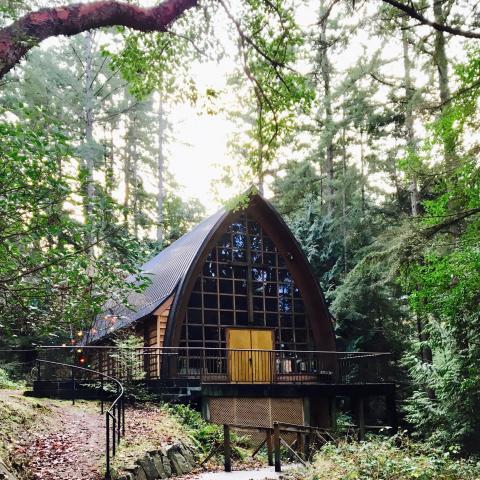 St. Christopher's Anglican Church is the community church of Saturna Island. It was dedicated in 1963 and joined with various other parishes until 1970 when it became a parish on its own. Since 1984, St. Christopher's has been part of a parish on Pender and Saturna Islands in the Anglican Diocese of BC, https://bc.anglican.ca/page/who-we-are.
St. Christopher's Church holds Anglican services as well as services conducted by ministers of other denominations. The Venerable Ellen Willingham is the Minister for the Parish of Saturna and the Pender Islands. She is available by phone and email, and comes to minister at St. Christopher's the 2nd Sunday of every month. We are fortunate as well to have other ministers as part of our community: Reverend Dawn Wood as a year-round resident; Reverend Dick Walenta, The Reverend David Wylie and Pastor Jeanette Amundson in  part-time ministry at St. Christopher's. 
Musicians are a vital aspect of any church community. We are thankful particularly for Joan Selby and Neysa Wiens, and welcome any musicians interested in exploring sacred and gospel music. It is a delight to have Marlena and her harp with us for some of our Celtic worship services.
St. Christopher's has a history of providing Sunday School programs for children. If you have a child interested in exploring church, please be in touch.
Contact info:  jeamundsonatgmail.com
Saint Christopher's Church Services 
| Monthly Schedule | Worship Style | Times | Leadership |
| --- | --- | --- | --- |
| 1st Sunday | Meditation | 10.30 am | Dawn Wood |
| 2nd Sunday | Thanksgiving | 10:30 am | Rev. Dick Walenta, Jeanette Amundson |
| 3rd Sunday | Meditation | 10.30 am | Dawn Wood |
| 4th Sunday | Community Led Worship | 10.30 am | Judith Rees-Thomas, Jeanette Amundson |
| 5th Sunday | Celtic Christian | 10.30 am | Jeanette Amundson |